Jennifer Rose Garcia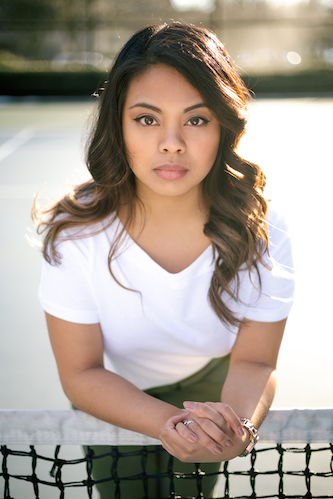 Jennifer Garcia is a teacher, actress and director known for her commitment, energy and unique style of engagement both on screen and in the classroom.  After graduating from the University of Winnipeg and earning her Bachelor of Arts and Bachelor of Education, Jennifer has been utilizing her skills in her teaching career.  Known for her joyful and bubbly nature, Jennifer is able to find success working with all ages of students.  From toddlers to late teens, she is able to foster and develop each students' potential and confidence, while having fun in the process.  Teaching abroad and throughout Canadian provinces, Jennifer familiarized herself in working in several types of classroom environments: from Primary Music, Drama and Musical Theatre, to teaching Kindergarten, and teaching high school English and Drama.  As flexible as she is in the classroom, she is as a working actress in Vancouver.  Jennifer has worked in the Film / TV / Theatre Industry for the past five years, working between New York, Winnipeg and Vancouver, actively auditioning for many shows, films and national tours based throughout North America.  Jennifer is so excited to be on board with StoryToGo as an acting instructor, and to be able to spread her passion of acting and performance with her students!
Anne Webster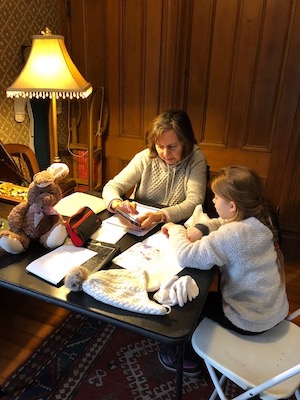 Anne has been a set teacher on numerous TV and film productions since retiring from her career as an elementary school teacher. She is a BC Certified School Teacher and holds a B. Ed. degree from UBC. She also has an ARCT Piano Performer's Degree, and with her extensive music background she has enjoyed teaching music in schools, classrooms, studios, and giving individual piano lessons. In addition to music, her other specialties include the core subjects of Language Arts and Math, as well as ELL (English Language Learners). She has taught to a wide range of students from Grades 1-12, including in the classroom, private tutoring, and on set. Having had such a variety of teaching experiences, Anne considers herself very adaptable and able to accommodate the varying needs of students, parents, and productions on film sets. She loves helping young actors complete their academic schoolwork, mixing in some interesting activities, taking advantage of those teachable moments, and sharing some laughs along the way. When not teaching, Anne enjoys long walks, bike rides, pickleball, and family time. Over the years, her travels have taken her to Europe, the Caribbean, Mexico, Venezuela, across Canada, and through the USA.
Shauna Chandler
Shauna's teaching experiences range from canoes to classrooms, and from Japan to Brazil. She has taught carpentry, gardening, math, science, language arts, social studies, and art. Her love of traveling and exploring has led Shauna to live in France, Japan, South Korea and on both coasts of Canada. Through these travels she has become adept at both French and Japanese. She aims to inspire and foster creativity in learning through the integration of the arts across the curriculum. Shauna loves to explore British Columbia's beautiful forests and beaches, and can often be found riding her bicycle around the city. Being able to make good use of the outdoors has come in handy throughout Shauna's on-set tutoring in Vancouver experiences!
Erica Hargreave
Ahimsa Kid's Principal
Erica has worked in the film and television industry as a set teacher, child coordinator, creative producer, writer, and actor. She is a passionate educator with specialties in Science, Biology, Writing, Technology and the Dramatic Arts. Erica has worked with preschoolers to adults on a wide variety of subjects from interactive storytelling and new media to science and history. Early on in her teaching career, Erica was integral in the development of a new school in which she held the position of Head Teacher. She has also been a Program Director for numerous organizations. Aside from her work, Erica enjoys many outdoor pursuits from scuba diving to skiing.
Lori Yearwood
Ahimsa Kid's Principal / Studio Teacher
Lori has been enjoying a journey of education for many years. She first discovered her love of teaching in high school where she taught dance to students as young as 4 ranging all the way to adults at recreational and competitive levels. This is where she developed her "Enthusiasm is Contagious" motto that she still applies to her teaching today. Lori believes that if a teacher is excited about what she is teaching, the students will be excited to learn. She went on to study education at the Institute of Child Study affiliated with OISE/University of Toronto. This is a research based program that equipped her with a thorough understanding of the learning process. Upon graduating, Lori wanted to explore a variety of teaching opportunities. She began by teaching students on location during film and television shoots in Toronto with Laurelwood Productions. Lori then became the Director of Education for Sylvan Learning Centre where she applied her skills and witnessed education from the perspective of the student, parent and fellow teachers. Putting her knowledge to the ultimate test, Lori created a family and had two children of her own! This has proven to be her greatest adventure yet. Throughout the years, Lori has maintained her interest in theatrical arts and has acted as creative consultant for various productions, both live and media related. Her family relocated to Los Angeles and lived there for 5 years. She pushed her own studies forward by obtaining a California Studio Teacher's license. A return to working with school-age actors has been the perfect fit for Lori. She views her position from many angles. Her husband and her own children have acted in film and television, so she understands the needs of the students she works with and knows the concerns of the parents. Having experience on the production side, she also relates to the intricacies involved in completing a project.
Lori's latest expedition has brought her and her family back to Canada to reside in Vancouver. She has found a great support system with Ahimsa Media and has been enjoying working with students from Canada as well as the United States. If you see Lori on set you are likely to realize she is meeting her goals of fostering a fun, nurturing environment for both students and fellow crew and creating an atmosphere that is safe for self-expression and growth, while promoting confidence in learners of all abilities.