The winter holidays to us at Ahimsa Kids are all about spending time having fun and laughing with folks we love.  It is for this reason that Lori and I take a break from the pre-holiday craziness each year to be goofy and shoot a holiday card together. We admit, we add quite a bit of fun on a regular basis while working together at our set tutoring agency in Vancouver, but we love to step it up for special occasions!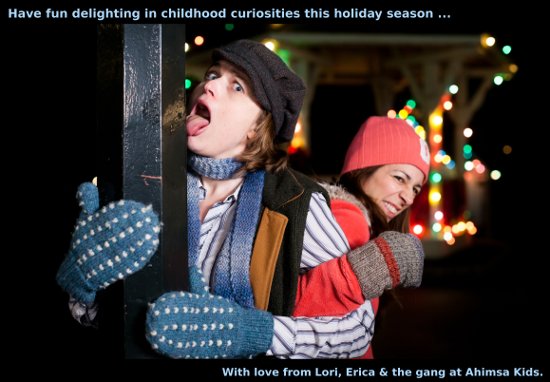 This year's shoot was even more delightful than usual, as we were fortunate enough to shoot at the Burnaby Village Museum, which is such a magical place.  What an absolutely perfect location for two gals that have a love for hands-on learning and engaging in creative ways!  If you haven't been, you must go.  Burnaby Village Museum is a living history museum, with historic interpretors dressed in period clothing there to spin tales for you of BC's history.  Having worked in such environments in my teens and twenties, I can tell you I view such sites with a discerning eye and am not easily impressed.  Burnaby Village Museum impresses me.  It is a place of magic.
To experience a bit of the magic yourself you can visit the Museum from noon until 8 pm each day, up until January 2nd, 2011.  Who knows you may even see Rudolph.  He was after all created there.
After that the Museum doesn't reopen until May 2011, except for special event openings.  Hoping they host their scavenger hunt again in February and March.